Join me once again as we peek through the Retrospectroscope and look at events three years ago during the month of June, 2013. I was able to find photos in my archives which met the themes of SKY, REFLECTION, FENCE, MACRO, CRITTERS and a few unidentified FLOWERS. Of course I am never at a loss finding shots of critters of all sorts, but they are mostly avian. It was a month chock full of activities, from Florida to Arizona and Utah.
On June 1, 2013 as we walked into the wetlands adjacent to our south Florida home, the cirrus clouds warned that a change in weather was imminent:
We visited the Yellow-crowned Night-Herons nesting in the rookery:
Their scraggly chicks looked like cartoon characters:
We checked the nest of a Common Nighthawk and, from a distance, saw that the nestling was almost ready to fly:
The adult nighthawk flew anxiously overhead, so we moved on down the path:
Green Heron youngsters had just fledged, and they scrambled about in the branches:
On June 3 the storms moved in and we hurried home ahead of the rain:
An adult Green Heron foraged in a lakeside puddle:
The Yellow-crowned Night-Heron chicks grew quite rapidly over the next week:
A Wood Stork rested on one foot in a small park along our lake:
The stork is in the foreground, and our home is reflected in the lake (on June 2-- four memes of critter, fence, sky and reflection all in one!):
Loggerhead Shrikes were courting:
Unsettled weather persisted into the middle of the month:
It was a wonderful month for butterflies--
Julia heliconians, a male and a female:
White Peacock:
Gulf Fritillary:
Zebra heliconian, State Butterfly of Florida:
Mid-month we departed for Arizona, where we rented an RV and toured the State for 10 days with our daughter's family:
At Tombstone, Arizona with our daughter and granddaughters:
Bobcat at the Desert Museum in Tucson:
Phainopepla in Oak Creek Canyon, Sedona, Arizona: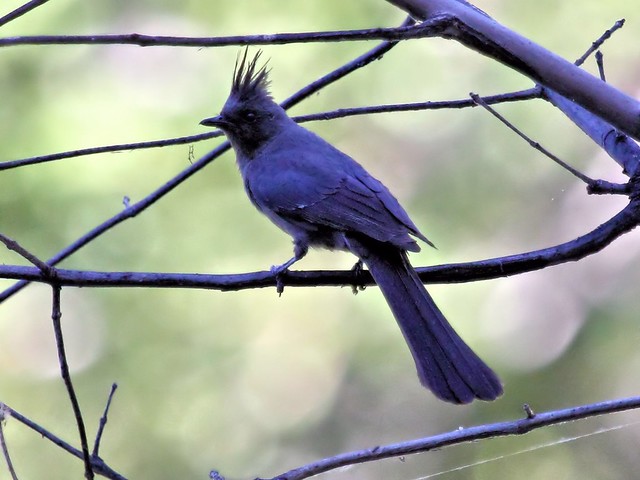 Black-throated Gray Warbler and Pygmy Nuthatch at Grand Canyon, Arizona:
Elk browsing near our campground at Grand Canyon:
Our granddaughter at Hopi Point in the Grand Canyon:
Thanks so much for visiting! I will be on the road for the next couple of weeks and often away from WiFi and even out of cellular range. Mary Lou and I are celebrating our 56th Wedding Anniversary! Tending to my blog from a cellphone does not work out very well, so I have put my posts on "autopilot" in the interim, but promise to visit you as soon as possible when I get back to my PC.
= = = = = = = = = = = = = = =
Linking to Misty's CAMERA CRITTERS,
Linking to Eileen's SATURDAY'S CRITTERS,
Linking to GOOD FENCES by Tex (Theresa).
Linking to SKYWATCH FRIDAY by Yogi, Sylvia and Sandy
Linking to WEEKEND REFLECTIONS by James
Linking to BirdD'Pot by Anni
Linking to Wild Bird Wednesday by Stewart
Linking to Today's Flowers Friday by Denise
Linking to Wordless Wednesday (on Tuesday) by NC Sue
________________________________________________
Please visit the links to all these memes to see some excellent photos on display
________________________________________________