During the eight years we have occupied our second home in NE Illinois, urbanization has finally caught up with us.Today I am sharing some bittersweet memories of the humble dooryard prairie that once surrounded us, now extinct.
This is the view from the front steps of our NE Illinois condominium on March 20, 2010. The slowing economy had stalled completion of the 144 town-home living units that were to occupy the entirety of the three block area around our building. My comments at the time are italicized:
Snow on the first day of Spring! The Horned Larks have just started nesting in this field.
August 20, 2010
Development has been stalled due to the poor housing market, allowing the disturbed land around our condo to return to grass. (The patch of taller grass and shrubs conceals the small pond which contained water much of the year)

May 8, 2011:
Taken through window pane. I happened to look out the upstairs bedroom window of our condo in North Aurora (Illinois) and saw the white head of a "Blue" morph Snow Goose among the 9 Canada Geese that were foraging in and around a fluddle in the undeveloped lot in front of our home. The Snow Goose tended to associate with one of the Canada geese, and the two spent much of their time apart from the rest of the flock... The far northern edge of the breeding range of Canada geese overlaps with that of the Snow Goose. The latter species is known for "dumping" its eggs in neighboring nests. Is it possible that this Canada Goose raised this particular bird?
That same day, Canada Geese swam in the small pond in the open space:
May 22, 2011:
All this week Spotted Sandpipers have been singing in the vacant lot in front of our Illinois condo. Yesterday I saw one atop a pile of rubble near the edge of our street, so I stopped there this morning, using the car as a blind, hoping to photograph them from only about 20 feet... After about 10 minutes a Spotted Sandpiper began moving between rock piles and suddenly was right in front of me.
August 3, 2011:
This afternoon, the three Sandhill Cranes that we saw here yesterday returned to the disturbed block surrounding our Illinois condo. Since the builder went bankrupt, this area has gone back to grass and weeds. There is one fairly constant pond in the center, and other "fluddles" that appear and may persist for several weeks when it rains.
August 21, 2011:
A new yard bird, I saw this Solitary Sandpiper in the vacant lots in front of our Illinois condo this morning, just after driving out on the way to Nelson Lake. It was in a puddle caused by the heavy rainstorm yesterday. Returning home, we found these two of the same species in another puddle right outside our front door...
June 29, 2012:
Views of the shelf clouds that preceded the severe thunderstorms on June 29, 2012, North Aurora, Illinois. The spaces between the cloud layers created white ribbons that stretched 180 degrees across the sky from north to south. Taken from the front door of our condo. (Sadly, we are now hemmed in by 2-story buildings and no longer have a view of the horizon)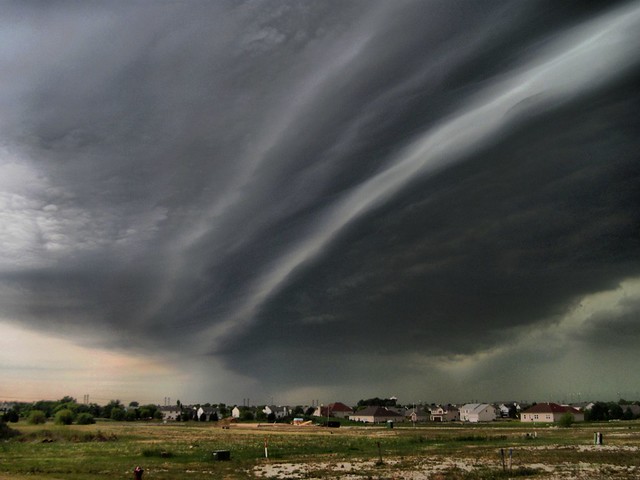 This is the opposite (north) end of that same cloud, which extended between both horizons:
April 21, 2013:
View from our front door steps. Change is inevitable, from the destruction of my quiet "Fake Hammock," (in Florida, as it appeared in 2011 and as seen in 2013) now in full sunlight overgrown with grasses, to the clearing of the prairie in front of our Illinois condo...
May 16, 2013:
This unit, one of 29 new buildings under construction, occupies the open space in front of our condo (taken from our upstairs bedroom window).
September 13, 2015:
The latest view from our front steps. Construction of the entire 3 city block development has been completed. Although the prairie which surrounded our condo has been completely developed and landscaped, a flock of Canada Geese and three Sandhill Cranes (barely visible in center of this photo at the distant end of the groomed "park" area) still find reason to rest and forage here.
My telephoto lens provides a closer look at those Sandhill Cranes, a family unit, which will normally remain together through the fall migration. They usually lay two eggs, but in most cases only one (or neither) hatchling survives. The adults have bright red foreheads, lacking in the juvenile bird ("colt") to the left in this photo. The adults' plumage is stained brown by the minerals in the mud they use in preening, while that of the colt is mostly clean gray. It has been playfully chasing any Canada Goose which ventures close by.
Presently there is a patch of relatively undisturbed open space only a few blocks away, at Jones Meadow Park. Here is a fence along the boundary of this small park, showing signs of age and weathering. It has provided perches for some memorable avian subjects,...
...among them, this Chipping Sparrow, when the posts were new, back in May of 2009:
Brilliant red Cardinal Flowers, such as these next to a pond in nearby Lippold Park, are indeed shaped like birds. Their stamens look like heads with beaks, and each has two narrow wing-like sepals and a three-lobed sepal serves as a tail. One of the few truly bright red wildflowers, they add a splash of color to the fall landscape in wet areas, and attract migrating hummingbirds. To my eye, these flowers appear to be dancing gracefully in a circle:
= = = = = = = = = = = = = = =
Linking to Misty's CAMERA CRITTERS,
Linking to Eileen's SATURDAY'S CRITTERS,
Linking to GOOD FENCES by Tex (Theresa).
Linking to SKYWATCH FRIDAY by Yogi, Sylvia and Sandy
Linking to WEEKEND REFLECTIONS by James
Linking to BirdD'Pot by Anni
Linking to Wild Bird Wednesday by Stewart
Linking to I Heart Macro by Laura

________________________________________________

Please visit the links to all these memes to see some excellent photos on display

________________________________________________